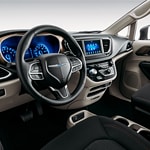 If you want a minivan that will engage your love of driving, we recommend a Chrysler Voyager at McGovern Chrysler Jeep Dodge Ram. This popular model awaits you on our lot in Newton, MA, where we invite you to look under its hood.
You will find Chryslers 3.6-liter Pentastar. This engine enjoys six cylinders and dual, overhead cams. Combined with gasoline and a spark, those elements produce 287 horsepower. If you like to tow your weekend's recreational gear, this Pentastar creates 262 torque units, too.
To help you smartly wield the Voyager's force, Chrysler supplies an automatic transmission that offers nine speeds. That wide gear range lets this minivan shift fluidly and properly apply its power in a broad spectrum of driving situations. Of course, some situations require you to reliably stop. The Voyager's antilock, disc brakes meet that critical requirement. As you can see, the Chrysler Voyager will invigorate your daily trips and your weekend excursions.