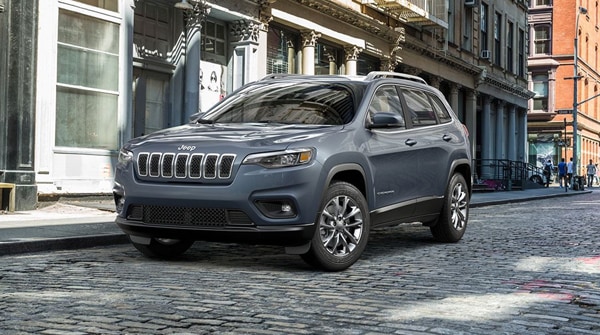 The 2019 Jeep Cherokee gives new life to the look and feel of the Jeep Cherokee. A new sleek and stylish exterior gives a combination of classic and modern feel to the vehicle. While the appearance of the 2019 Jeep Cherokee is not one to be overlooked, that isn't what makes this Jeep so amazing.
Read through this review of the 2019 Jeep Cherokee, and then head to McGovern Jeep in Newton to test drive one for yourself!
Jeeps are known for their handling on and off the road, and the 2019 Jeep Cherokee is no exception. It starts under the hood with an all-new turbocharged 2.0-liter 4-cylinder engine. This engine puts out 270 horsepower with 295 lb-ft of torque. This engine has the capacity to tow up to 4,000 pounds, meaning it has the ability to bring everything you need to adventure around the world. Like older models, the 2019 Jeep Cherokee also has a 2.4-liter Tigershark engine option, with 180 horsepower and a 3.2-liter V6 engine, which produces 271 horsepower.
The 2019 Jeep Cherokee has been designed with the driver's safety in mind. It comes with Lanesense® Lane Departure Warning, which helps to prevent unintentional lane shifting and keep the vehicle on the desired path. Full-speed forward collision warning uses radars to sense if the Cherokee is coming up on the vehicle in front too fast and will apply brake pressure to prevent a collision. The Cherokee also comes with rear cross path detection, which will significantly improve one's ability to safely back out of a parking spot. It will alert the driver if the sensors pick up on another vehicle or object that is about to cross behind the Cherokee but is out of sight.
The 2019 Jeep Cherokee excels off the road as well, using a combination of different features to make even the harshest conditions look like a walk in the park. The Trailhawk trim has front and rear independent suspensions, which gives the Jeep exceptional dynamics to provide optimal traction. The wheels also have great articulation, meaning they can flex better than a typical wheel, which provides even better traction for the Jeep.
To add on to superior traction, the 2019 Jeep Cherokee also features suburb maneuverability. The Jeep can make the tight turns and maneuver around any obstacles in its path, a must-have when adventuring off road. Some obstacles are unavoidable, especially when the driver desires a little more fun. Being able to cross streams is an essential aspect of off-roading, and the 2019 Jeep Cherokee features a high air intake, and electrical and body sealing to make sure the water does not enter the vehicle. This allows the Jeep to get spots where other vehicles couldn't dream of reaching.
Starting at $24,195 MSRP