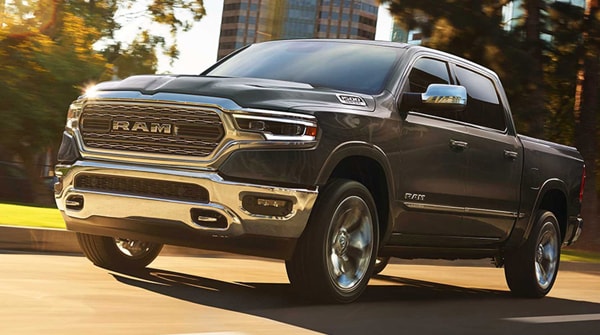 Drivers in the Boston area have cause for celebration. The all-new 2019 Ram is finally here. The cosmetic and technological changes bring the new Ram into the new age for trucks.
Read through this review of the 2019 Ram 1500, and then come into Boston's Newest Truck Center, McGovern Ram, in Newton for a test drive!
The 2019 Ram 1500 is ready to meet the power needs of any driver. It comes equipped with a 3.6-liter V6 engine that produces 305 horsepower or an optional 5.7-liter Hemi V8 engine which produces 395 horsepower. The V6 and V8 engines come standard with an 8-speed automatic transmission. One of the New 2019 Ram 1500 technological changes is the introduction of a hybrid engine, which uses the Fiat's Chrysler Automobiles eTorque system. This provides energy to a 48-volt lithium-ion battery. It allows for quicker and smoother starts and adds additional torque for each engine (90 lb-ft added to the V6 and 130 lb-ft added to the V8). In addition, the redesign of the 2019 Ram 1500 allows for a more aerodynamic vehicle. Improved active grille shutters and a front splitter that, when traveling above 35 mph, lowers to decrease drag provides for a smoother ride and saves on fuel.
Not only does the 2019 Ram 1500 impress under the hood, but it also impresses inside the cab of the truck as well. The 2019 Ram 1500 comes with a 12" touchscreen Uconnect 4 infotainment system with navigation. A customizable home screen allows drivers to have their messages, music, and navigation right at their fingertips. Apple CarPlay and Android Auto can be used to play music. This system isn't the only upgrade in the cab. It is redesigned to increase legroom for passengers in the back. It has up to 5 USB ports for everyone's charging needs. Available luxury features include hand-stitched leather seats and real wood trims.
The 2019 Ram 1500 also has a suite of safety features to further the truck's overall experience. Lane departure warning will notify the driver if they are about to cross a lane without signaling, while lane keeping assist makes sure you stay in your lane, while blind spot monitoring makes sure you know if someone is driving near you, even before you see them. Auto emergency brakes, adaptive cruise control, and auto high beam headlights also come standard on the 2019 Ram 1500.
The 2019 Ram 1500 excels in all facets, making it one of the best trucks to on the market.
Starting at $31,695 MSRP