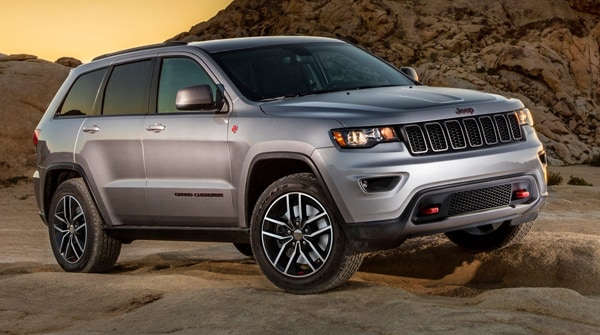 Top quality SUV's are always in high demand and lucky for the drivers in the Boston area, they can find the 2018 Jeep Grand Cherokee at McGovern Jeep. The 2018 Jeep Grand Cherokee is suited for every type of driver, with optimal performance and highly touted safety features.
Take a trip down to McGovern Jeep in Newton today to take a test drive and find out for yourself why the 2018 Jeep Grand Cherokee is in such high demand.
Performance
The 2018 Grand Cherokee comes with five different engines, tailored to the needs of the drivers. The standard engine is a 3.6-liter V6 which produces 295 horsepower and 260 lb-ft of torque. The following engine is a 3.0-liter diesel V6 which produces 240 horsepower with 420 lb-ft of torque. The next three engines are all V8 variants. The first is a 5.7-liter engine producing 360 horsepower, the second is a 6.4-liter engine churning out 475 horsepower, and the final engine is a 6.2-liter supercharged engine with an exhilarating 707 horsepower!
On top of the impressive horsepower within the 2018 Jeep Grand Cherokee, it also has a towing capacity of 7,400 pounds, allowing it to be used for all sorts of adventures! It comes with Quadra-Drive Electronic Limited-Slip Differential, which provides all available torque to a single rear wheel for ultimate performance when off-roading. All-Speed Traction Control, Selec-Speed Traction Control, and Hill Ascent and Descent Control give the 2018 Jeep Grand Cherokee all the tools it needs to excel on and off the road!
Safety
The 2018 Jeep Grand Cherokee comes equipped to make any type of driving as safe as possible. For difficult driving situations, it has Forward Collision Warning with Active Braking and Adaptive Cruise Control with Stop. This will allow the brakes to automatically be applied when the Jeep is moving too fast towards a vehicle in front to avoid a collision. Blind Spot Monitoring will keep the driver aware of the full road situation, even that outside of their view. Parking becomes a breeze with automated parking using Parallel and Perpendicular Park Assist. It will identify a spot it can fit and then gives the driver instructions on applying brake and accelerator, while the guidance system adjusts the steering wheel as needed.
The 2018 Jeep Grand Cherokee is suited for all drivers. The combinations of performance and safety features make the 2018 Jeep Grand Cherokee one of the best rides around! Come down to McGovern Jeep and see for yourself how amazing it is!
Pricing
Starting at $30,895 MSRP