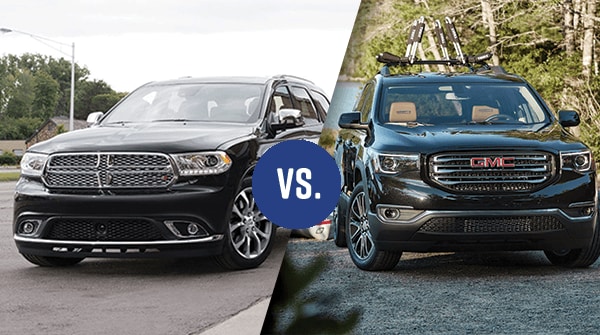 New England is an excellent place for those who want to experience and enjoy the outdoors. Having a vehicle that the whole family can fit comfortably in, while still having enough power to maximize the trunk space and take full advantage of the towing capacity.
Luckily, this comparison of the
2018 Dodge Durango
and the 2018 Chevrolet Traverse will allow you to see how the two compare to each other and let you make the final call. Once you finish reading, come down to Newton and take a test drive in the Durango and experience it for yourself.
Performance and towing
Dodge Durango
The 2018 Durango comes with a trifecta of engine options. The first being the. 3.6-liter V6 engine, which produces 293 horsepower with 260 lb-ft of torque. The second engine comes with a little more power, a 5.7-liter V8 creating 360 horsepower with 390 lb-ft of torque. The third and most powerful of the trifecta is a 6.4-liter V8 engine churning out a mighty 475 horsepower with 470 lb-ft of torque. With all three utilizing an 8-speed automatic transmission and can be optioned to an AWD.
The engines aid the 2018 Durango in having a best-in-class towing capacity with a whopping 8,600 pounds of towing capacity. For the adventurer, making sure they can bring everything they need to enjoy the outdoors fully is of the utmost importance. Whether it be a boat, snowmobiles, or ATV's, the 2018 Dodge Durango is more than capable.
GMC Acadia
The 2018 Acadia comes with two engine options. The first is a 2.5-liter inline-four. This engine creates 193 horsepower, 100 less horsepower than the 2018 Durango's base engine. The second engine option is a 3.6-liter V-6 producing 310 horsepower. This is 165 horsepower less than the most powerful Durango engine.
While the base engine only gives the 2018 Acadia 1,000 pounds of towing capacity, the V-6 gives it 4,000 pounds of towing capacity. This is less than half of the 2018 Durango's (8,600 pounds).
The 2018 Durango's higher towing capacity will give people the flexibility to be confident going on an adventure no matter what they need to bring!
Pricing
Dodge Durango
Starting at $29,995 MSRP
GMC Acadia
Starting at $29,000 MSRP