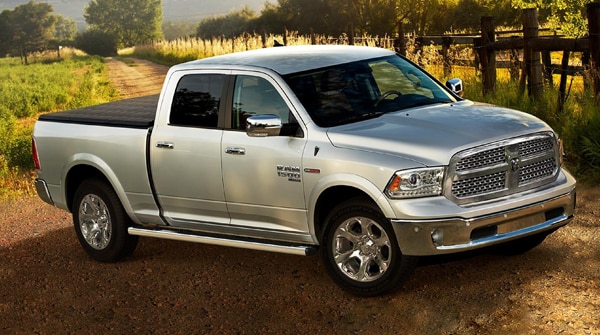 Drivers in the greater Boston area know how packed the city can be, but their vehicle shouldn't be. The new 2019 Ram 1500 has improved upon passenger seating allowing for a more comfortable drive.
That is not the only reason why drivers should be looking at the 2019 Ram 1500 as their next vehicle. Read this review, then head to McGovern Ram in Newton to take it for a test drive.
Performance
The 2019 Ram 1500 starts with a 3.6-liter Pentastar V6 engine. This uses the eTorque, a mild-hybrid system, which allows for the 1500 to produce 305 horsepower and 269 lb-ft of torque. The 2019 Ram 1500 offers a more powerful engine for those wanting to max the output of their truck. A Hemi 5.7-liter V8, which produces 395 horsepower and 410 lb-ft of torque. Both engines use an 8-speed automatic transmission.
The 2019 Ram 1500's V8 Hemi engine comes with improved gas mileage thanks to its Fuel Saver Technology. This incorporates cylinder deactivation. The engine's computer can determine the amount of load being carried and adjust accordingly. If it is a lighter load, it will only use of the eight cylinders and will turn on spark and fuel output as needed. That isn't the only way the new 2019 Ram 1500 saves on fuel. It also used a variable camshaft. By delaying the closing of the intake valve, the V8 engine's reducing the pump work, which reduces fuel consumption.
Technology
The 2019 Ram 1500 includes optimal performance not only under the hood but in the interior as well. The dash is highlighted by the 12-inch Uconnect touchscreen that can use the full screen for one application, such as a map for navigation or run two applications concurrently on a split screen.
The center console comes equipped with a wireless charging station that can charge a smartphone or small tablet. Opening the center console reveals a storage area deep enough to hold a 15-inch laptop. The cup-holder can be fashioned between three positions for the perfect size for any drink. The back of the console has two more cup holders for the rear seat passengers and another storage area that can hold a tablet or a phone.
Pricing
Starting at $31,695 MSRP